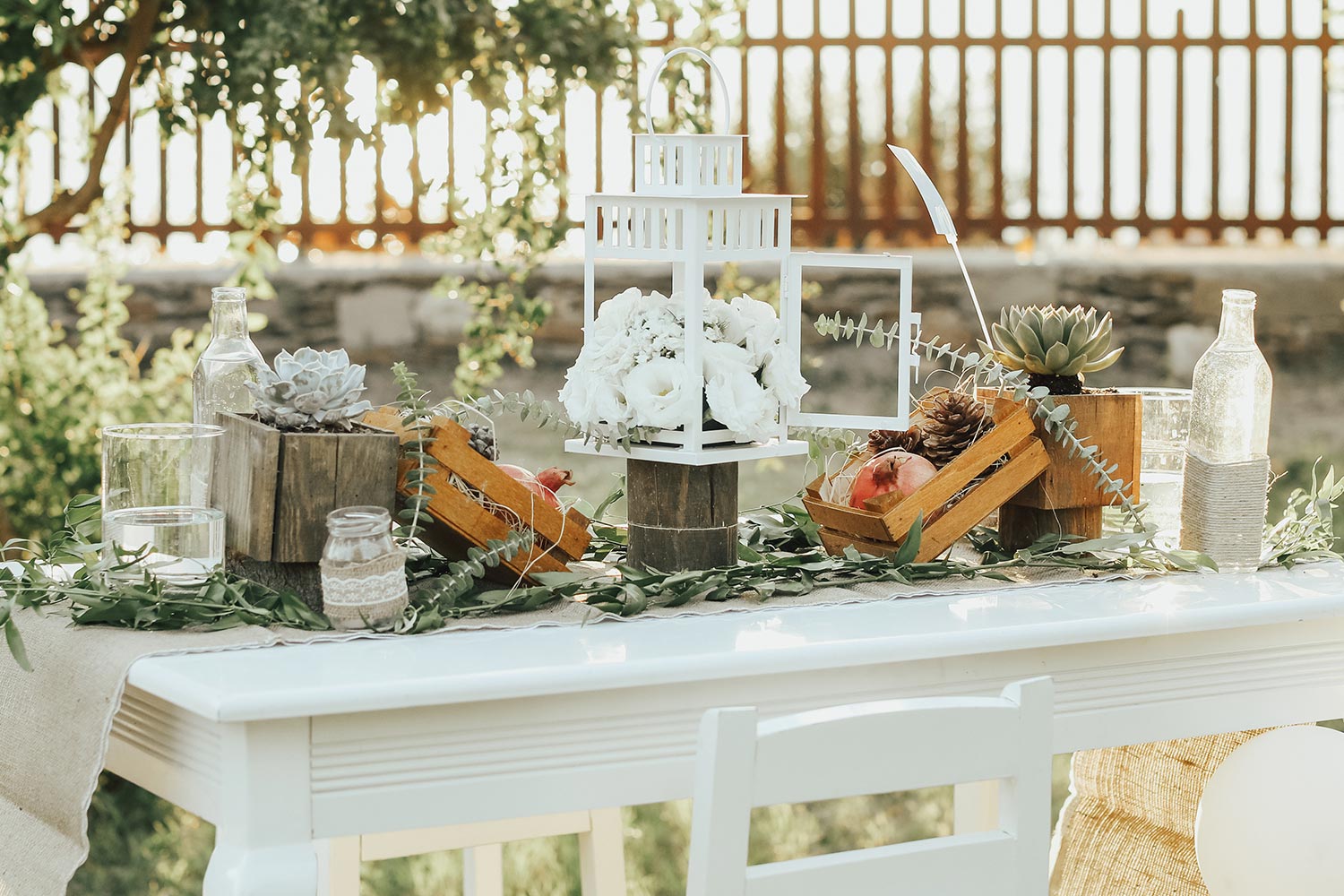 When it comes to gifts, it truly is better to give than to receive. On your wedding day, however, expect to be showered with gifts. Take this chance to showcase your wedding decor skills with these wedding gift table ideas!
Deciding where to place the gift table can be a struggle. You can place your wedding gift table in the lobby near the guestbook, or near the sweetheart table. There's no right answer! Do whatever fits your venue best.
1. Romantic Parisian Gift Table
This romantic table setting, shot by Paul Francis Photography, is downright gorgeous! Recreate this look with large white rose or peony blooms, tea light candles and gold accent mirrors. Don't forget to thank your guests with a fun message!
2. Detailed Gift Table
The difference is often in the details, and these photos by Ashley Caroline and Megan Clouse Photography prove it. Choose a metallic color, and use it throughout your entire table. Small accents like a mini chalkboard or small bouquet add character, while still leaving room for gifts and cards.
3. Whimsical Gift Table
If it's hard to settle on just one color scheme, you don't have to! This playful table set up, courtesy of Courtney Bowlden Photography, mixes all sorts of colors, textures and materials. Draw inspiration from the Mad Hatter and make your own eclectic gift table display.
4. Rustic Gift Table
This couple's gift table from Orchard Cove Photography offers guests a gift in return! For sunny outdoor weddings, prevent unnecessary sunburns by leaving your guests complimentary parasols as they walk in.
5. Photo Display Gift Table
Decorate your gift table with an assortment of framed and hung family photos. With Love & Embers Photography captured this touching display of memories. This is a beautiful way to symbolize your families coming together and ensure any loved ones who couldn't make it to the big day are still present.
6. Classy and Minimalist Gift Table
Keep your gift table understated yet elegant with a limited color scheme like this couple did. Willow Noavi Photography shares a close up of the small details. A framed sign, vase or two and card box will do when setting up this gift table.
7. Wooden Initials Gift Table
Spruce up your gift table with you and your boo's oversized initials. Emily Magers Photography shot this couples' interpretation, which looks gorgeous propped up against a spot of greenery. Don't forget to thank your guests with a thoughtful party favor, like a custom-made CD!
8. Vintage Gift Table
This beautiful display from Heather Roth Photography uses vintage items passed down through generations. Each item holds a meaningful memory, making this table extra sentimental. Add a lace table cover to complete the look!
9. Family-Focused Gift Table
This gift table, captured by Libby Photo, emphasizes family history. Highlight you and your beau's family photos as far back as you can find them. A mailbox is a great addition to hold cards from your guests.
10. Floral Gift Table
Make your gift table a can't-miss spot by decorating it with plenty of mini floral arrangements and soft, romantic candles. This couple, photographed by James & Jess, used a distressed wooden box to help display signage and pictures! Add party favors next to your gift table or fun props like sparklers to give the newlyweds a proper send-off!
11. Flatbed Gift Table
Forego the table with this idea. This couple set up their gift station on the flatbed of an old truck. You can even stack some haphazard hay bales to add visual interest. Summer Street Photography captured this country wedding decor.
Wedding Gift Table Tips
Setup
The wedding gift table can easily be set up the day of the wedding. Assign a couple of bridesmaids to arrange the tablecloth and decorations. Just make sure they understand your vision so it can be executed perfectly! Ensure guests have plenty of room to place gifts big and small.
Security
The best way to ensure no thievery occurs on your wedding day is actually to leave the gift table out in the open. This way, you and your trusted wedding party can keep an eye on the goods all night. Thieves are much less likely to strike when they know they will get caught! It is also advisable to use a card box that locks or only has a small slit for envelopes.
Transport
The last thing a newlywed will feel like doing at the end of the night is lugging a table of gifts from the venue to your car. Plan for a member of the wedding party to transport the gifts home. This takes the weight off of your shoulders so you can relax after a crazy day.
Thank You Cards
After the wedding and gift table comes the thank you cards. These can get tedious, especially when hand-writing each card. Make the cards sweet and simple by using casual wording, mentioning their gift and how you plan to use it, and expressing plenty of gratitude. Sit down with a cup of coffee or glass of wine and you will get through them in no time, promise.
Every wedding needs a gift table for guests to drop their gifts. Just because gift tables are necessary, doesn't mean they can't act as a gorgeous part of your overall decor! Be sure to consider your needs and venue space when deciding on a gift table display. If you aren't sure what gifts you'd like to receive, scroll through these wedding gifts to get an idea.